A LIFETIME OF INSPIRATION

When it comes to Black and White Landscape Photographers the name Ansel Adams is arguably the most famous of them all. He has inspired many generations of photographers including my self. With his Classic and sought after images of Yosemite,Grand Tetons, and New Mexico and his perfection to detail when it came to processing his images in the dark room he set him self apart for the pack.Now lets dive into Ansel Adams life and his impact on landscape photography.
The Snake River, Grand Teton National Park,Wyoming by Ansel Adams,1942, via Sotheby's

---
Ansel Adams-In the Beginning
Ansel was born in Feb 20 ,1902 in San Francisco. At the age of 14 he received his first camera in 1916, right away Adams also proved to be a very talented photographer. Throughout the 1920s, when he worked as the custodian of The Sierra Club lodge in Yosemite National Park, he created stunning landscape photographs. During this time he formed a passion for the Yosemite Valley and to the High Sierras to the east. By 1935 Ansel Adams had become world famous with is writings and images of Yosemite attracting publications world wide.

What was Ansel Adams Style
Originally working in the Pictorialist style, widely popular in the 1910s and 1920s, Adams encountered Paul Strand's photography in 1930, and rejected his earlier painterly, soft focus style for a new "pure" and sharp focus approach.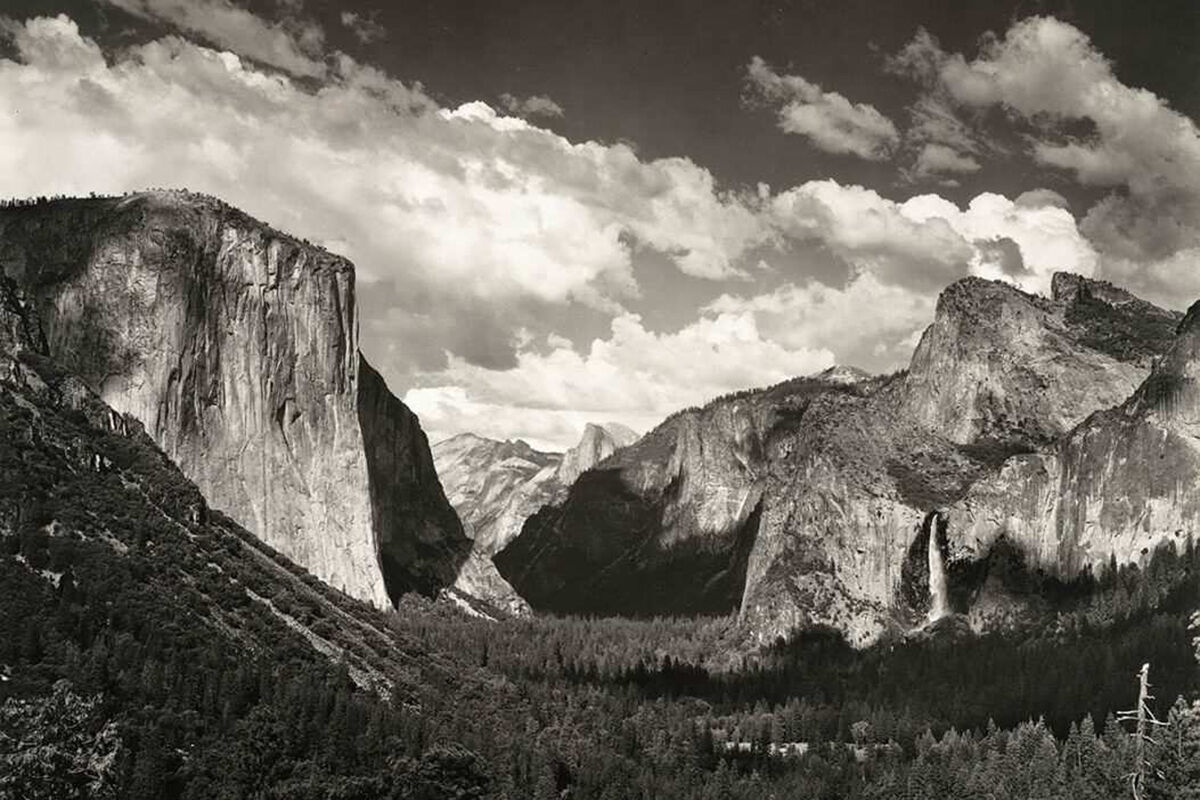 Yosemite Valley, Yosemite National Park by Ansel Adams, 1934, via the San Francisco Museum of Modern Art

---
Conservation
Adams was an unremitting activist for the cause of wilderness and the environment. Over the years he attended innumerable meetings and wrote thousands of letters in support of his conservation philosophy to newspaper editors, Sierra Club and Wilderness Society colleagues, government bureaucrats, and politicians.

---
His Most Famous Photo in the World
When speaking of Ansel Adams' photography, the most famous is Monolith, the Face of Half Dome. This was Adams' first photograph that gathered the attention of the public and the art world. Using his Korona camera, Adams captured his iconic photo of Half Dome in Yosemite National Park after a difficult hike.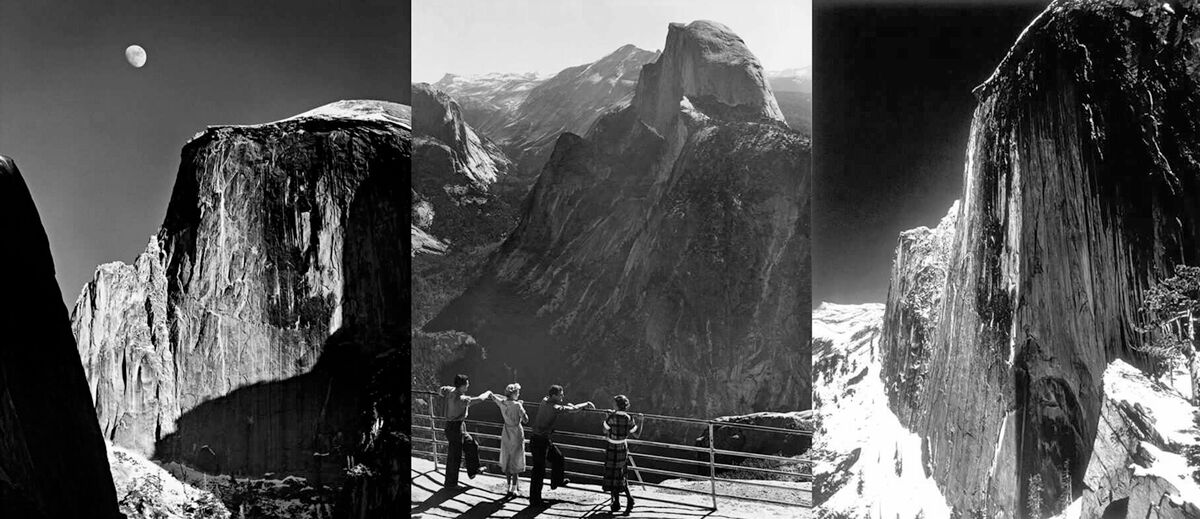 Monolith, the Face of Half Dome, Yosemite Valley, California by Ansel Adams, 1927, via the University of Michigan Museum of Art, Ann Arbor

---
Did He Use Color
Ansel Adams began to photograph in color just after Kodachrome film was invented in the mid 1930s. He made nearly 3,500 color photographs, a small fraction of which were published for the first time in the 1993 edition of ANSEL ADAMS IN COLOR.
---
His Most Famous Quote
"A true photograph need not be explained, nor can it be contained in words. ' 'There are no rules for good photographs, there are only good photographs.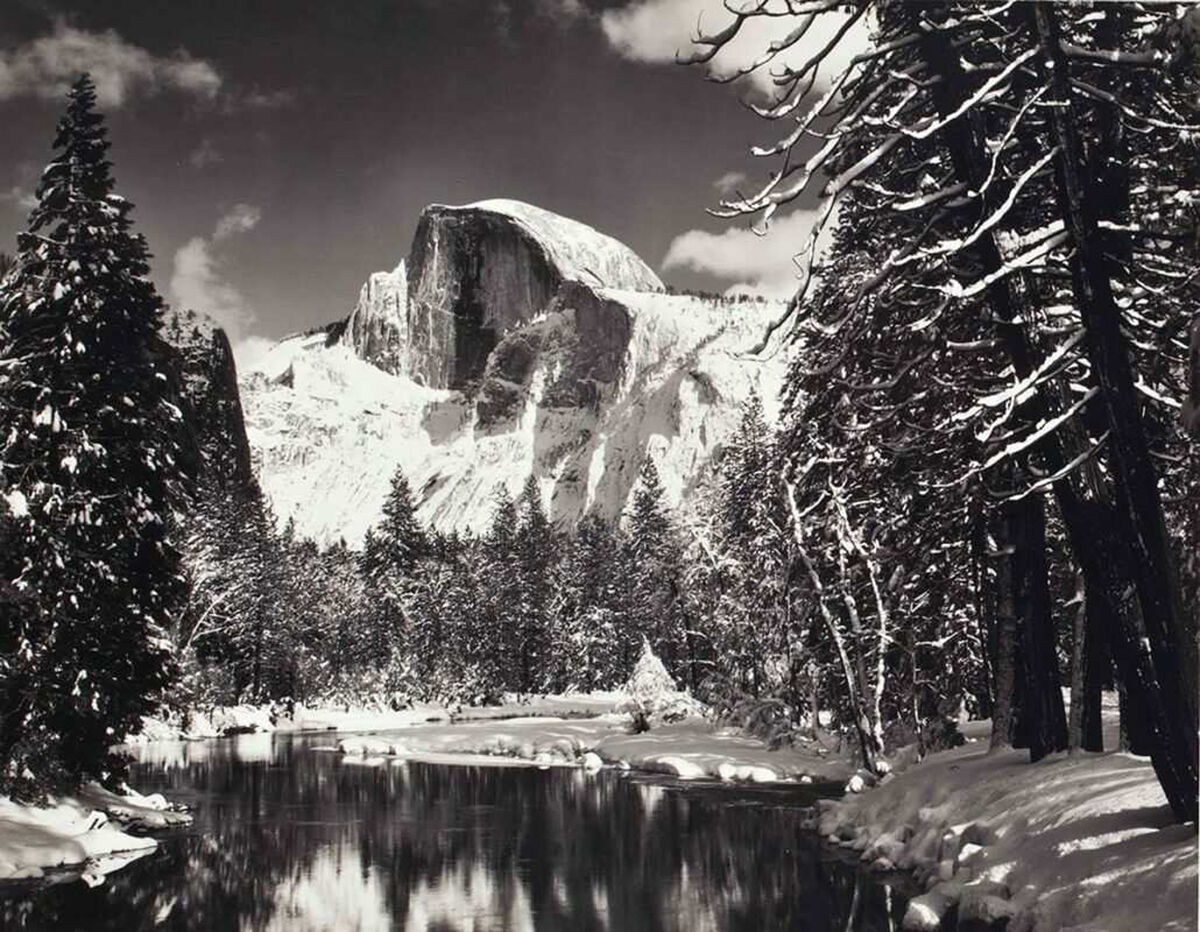 Half Dome, Merced River, Winter, Yosemite National Park, California by Ansel Adams, 1938, via Christie's

---
Ansel Adams In The End
Most of Adams's great work as a photographer was completed by 1950: only a handful of important pictures were made during the last half of his adult life. The later part of his life, he spent most of his energy as a photographer on reinterpreting his earlier work and on editing books of his own work. In 1984 at the age of 82 yrs old Ansel Adams Passed away in California.
---
Ansel Adams Greatest Achievements
His main accomplishment was the development of the zone system of developing photos. With the system he created, it became possible to have different shades of black, white, and grey. Also, he received many awards. Some of those awards include the Presidential Medal of Freedom and the John Muir award.He considered to be the greatest photographer of all time.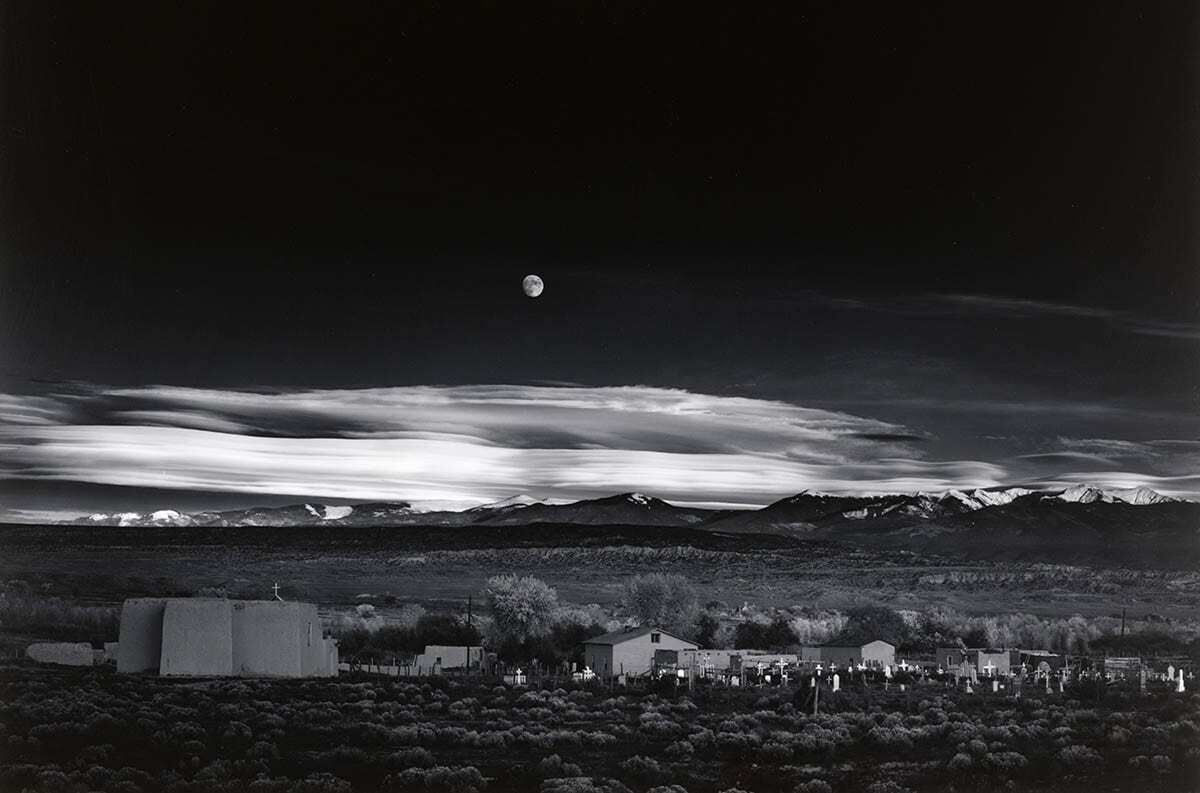 Moonrise, Hernandez, New Mexico by Ansel Adams, 1941, via MoMA, New York

---
His Lasting Legacy
Today you can't mention photography without thinking of Ansel Adams.With more than 30 years since his passing Ansel Adams Legacy still lives on as many photographers today still shoot black & white and color and try to replicate Ansel Adams style & unique precision of editing. From his Iconic images taken in Yosemite ,The Grand Tetons National Park, and New Mexico I have visited many of these places he had once stood and photographed I always think of him and appreciate what he did for putting Nature Photography on the map and inspiring generations to come.
---
Fast Foward-My Photographic Journey In A Nutshell
Born and raised in Lake Stevens, Washington along the Northern Cascade Mountains, I grew a profound appreciation for the natural world at a young age. I spent my childhood traveling and exploring the Pacific Northwest with my family and my love for mother nature grew.

In 2002 I began attending Northern Idaho College where I took my first photography class shooting 35mm film. It was at this time I met two photography professors, Tim Christie and Phil Corlis, who forever changed my life. At the age of 18 and with the encouragement of my instructors, I realized my life passion, to capture the natural world using my unique eye for light and composition as a landscape photographer.... in hopes of becoming the next Ansel Adams like many of us photographers lol.

After college, I moved to Kailua Kona on the Big Island of Hawaii where I had 2 very successful galleries for 10 years.After living in Hawaii for 14 years In 2018 I embarked on a new journey my lifelong dream by opening my very own photography gallery.I had my gallery there from 2018-2021 but after 4 years I wanted to live closer to family. In 2022 I moved to Scottsdale,Arizona and plan to open a new Photography Gallery in 2023 located in The Famous Art District in Scottsdale,Arizona.
Over the past 20 years I have been selling my Limited Edition Fine Art Nature Photography to Collectors from all over the world transforming peoples walls in homes & offices, by adding style and conversation pieces. To enjoy or even purchase my images you can view all my photo galleries here.

The Nick Selway Fine Art Photography Gallery