Rodeo Drive located in Beverly Hills is famous for, luxury boutiques, resorts ,hotels, Fine Art and Luxury Photography Galleries.Rodeo Drive is home to more than one hundred of the world's leading international brands housed in exemplary, architect-designed boutiques along its three, palm-dotted blocks. Discover exceptional savoir-faire, craftsmanship and new experiences in luxury, art and culture. Rodeo Drive is one of the top tourist destinations on every bucket list and the galleries are must see when visiting.

Although Nick Selway does not have a gallery located on Rodeo Drive he had two Luxury Photography Galleries located in Hawaii from 2007-2018 and one in Breckenridge, CO from 2018-2022 and currently "The Famous Art District" in Scottsdale,Arizona. Over the past 20 years Nick has been selling his Limited Edition Fine Art Luxury Nature Photography to Collectors from all over the world.Transforming peoples walls in homes, offices, and hotels by adding style and conversation pieces with his world class unique images.The Nick Selway Gallery is able offer the same limited-edition quality prints you will see on Rodeo Drive at a much more affordable price. If you are interested in purchasing a piece enjoy his most collected pieces below or browse all his online galleries to see his Limited-Edition Nature Photography images for sale.
THE NICK SELWAY LUXURY NATURE PHOTOGRAPHY GALLERY

Welcome to "The Nick Selway Photography Gallery".Here you will find Award Winning Nature Photography by Nick Selway. His beautiful nature photography has been featured on The Todays Show, National Geographic, Outdoor Photographer Magazine CBS, New York Daily News, ABC News, Surfer Magazine, UK Daily Mail, and many other articles worldwide. Expect to see images all over California & Colorado to the slot canyons and red rocks of The American Southwest and the breathtaking views of The Hawaiian Islands.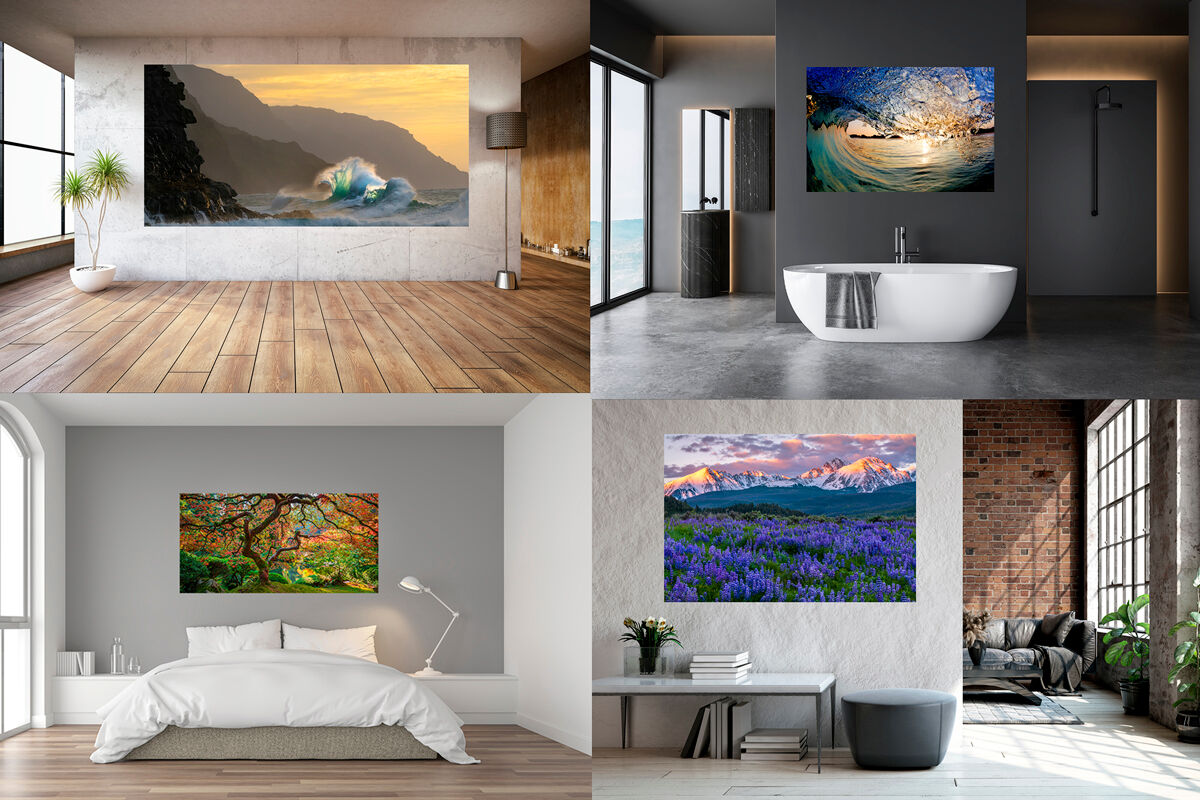 Nick's work comes in sizes ranging from 12x18 inch up to 60x120 inch's. His work is printed on various mediums Limited Edition True Life Acrylics with an option of Italian Roma Frames , Open Edition Metal/Aluminum Prints and much more. Custom orders such as Triptych's/split into 3 pieces or more are available please contact the gallery for more information on that.
To purchase a print from one of his collections just click on an image use the drop down menus found below the image choose yours medium, size, and proceed to checkout. You can complete your transaction using Pay Pal or Stripe Payment.