---
The Beginning

My name is Nick Selway I am a professional Fine Art Nature Photographer and have been photographing now for almost 19 years. Growing up in Lake Stevens, WA, a small town along the North Cascade Mountains, I always had an appreciation for nature. As a child I always enjoyed camping, hiking and just being outside. In 2002 after graduating high school, I attended North Idaho College in Couerd'Alene, Idaho, which has a beautiful campus located right on the edge of Lake Couerd'Alene. Like many kids who graduate high school I had no idea what I wanted to do for a living, so when it came time to sign up for my college classes I just went with my gut. Specifically, I saw that they had offered an "Into To Photography Class" which sounded fun, so I signed up. It was at this time I met two photography professors, Tim Christie and Phil Corlis, who forever changed my life. At the age of 18 and with the encouragement of my instructors, I realized my life passion, to capture the natural world using my unique eye for light and composition in fine art nature photography.
At that time, digital photography was just coming out and I started by shooting with 35mm Film. There were 4 photography classes offered at my college I ended up taking them all and became obsessed with taking images. During that time I would read everything I could about photography like books and magazines, and would even research accomplished photographers online such as Thomas Magnelusen, Tom Till, Ansel Adams, and many others to soak up as much information as I could. As I began to travel to take images, I also would end up going into many of these renowned nature photographers' galleries. I knew after seeing many of these galleries, that having my fine art nature photography in gallery to sell my work was my goal.
After attending North Idaho College for 2 years I ended up transforming to The Seattle Art Institute, but I quickly found it wasn't the right fit for me. Most of the photographers at the school were Portrait, Wedding or even Architectural Photographers and I did not enjoy those mediums at all. Ultimately I knew it wasn't for me and that I didn't need any more college to achieve my ultimate goal. For me to become better at fine art nature photography, I had to shoot as much as I could and take a leap of faith.
---
The Move
In 2005 just after I was done with attending college, I took a trip to Kailua Kona, The Big Island of Hawaii to visit one of my best friends who was living there. After being on vacation for 2 weeks enjoying the beaches and the warm waters of the Pacific Ocean, I told myself that I had to move here. I left Hawaii, went back home to Washington, I tied up all my loose ends, and 2 weeks later I officially moved back to The Big Island.
After making this move, reality kicked in, and now I had to find a job and make a living. I ended up getting a job working for a Dive/Snorkeling boat company "The Fair Winds" and I was basically a glorified server with great tan and could save your life if needed, haha. The first week I was working on the boat I ended up meeting Cj Kale who eventually became my best friend and former business partner.
Cj and I ended up talking after work one day about how we both loved taking nature photography images and with the mutual passion we started going on photo trips around the island together. After about a year of doing that, we both agreed we wanted to make a living at selling our photos somehow and do it together. We ended up finding a Kiosk downtown Kailua that was 50 square feet and $800 a month for rent. So, we went for it! We would open the kiosk 5 days a week at night after we worked all day on the boat and sell our fine art nature photography printed on matted and loose prints to customers from all over the world.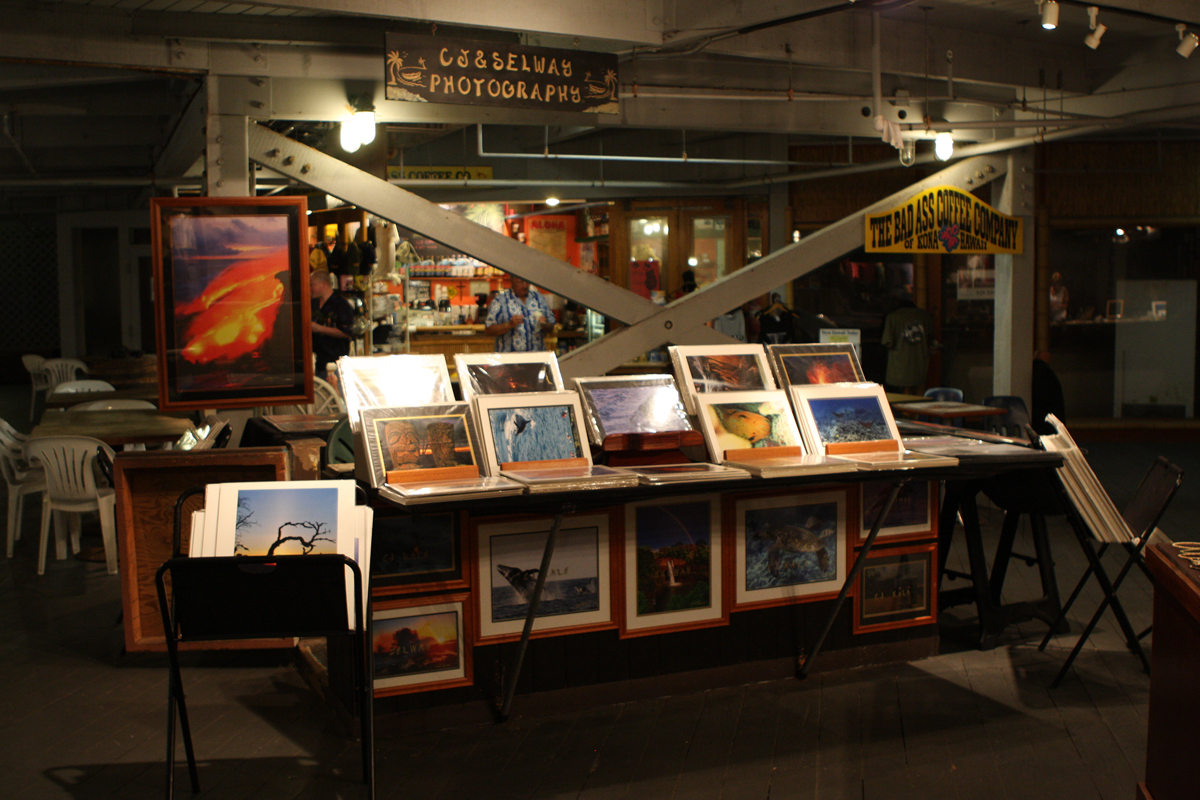 ---
Taking a Chance/Our First Real Gallery
After 3 years of working on the boat and running our photo kiosk together we knew that if we truly wanted to make a living off our fine art nature photography, we had to somehow open a real gallery. In 2007, a small retail location was up for rent on main street in Kailua Kona. We talked about it and within a week of the location being put up for rent, we went to the bank took out a small business loan, called the landlord, and signed the lease. We then went all in on it, quit our jobs working on the boat, closed the kiosk, and opened our very first gallery. This was probably the most scared I had ever been not knowing if this would work, and if we going to fail or succeed. However, with hard work and determination Cj and I made it happen. Happily, we were successful and making a living running the gallery which we named "Lava Light Galleries".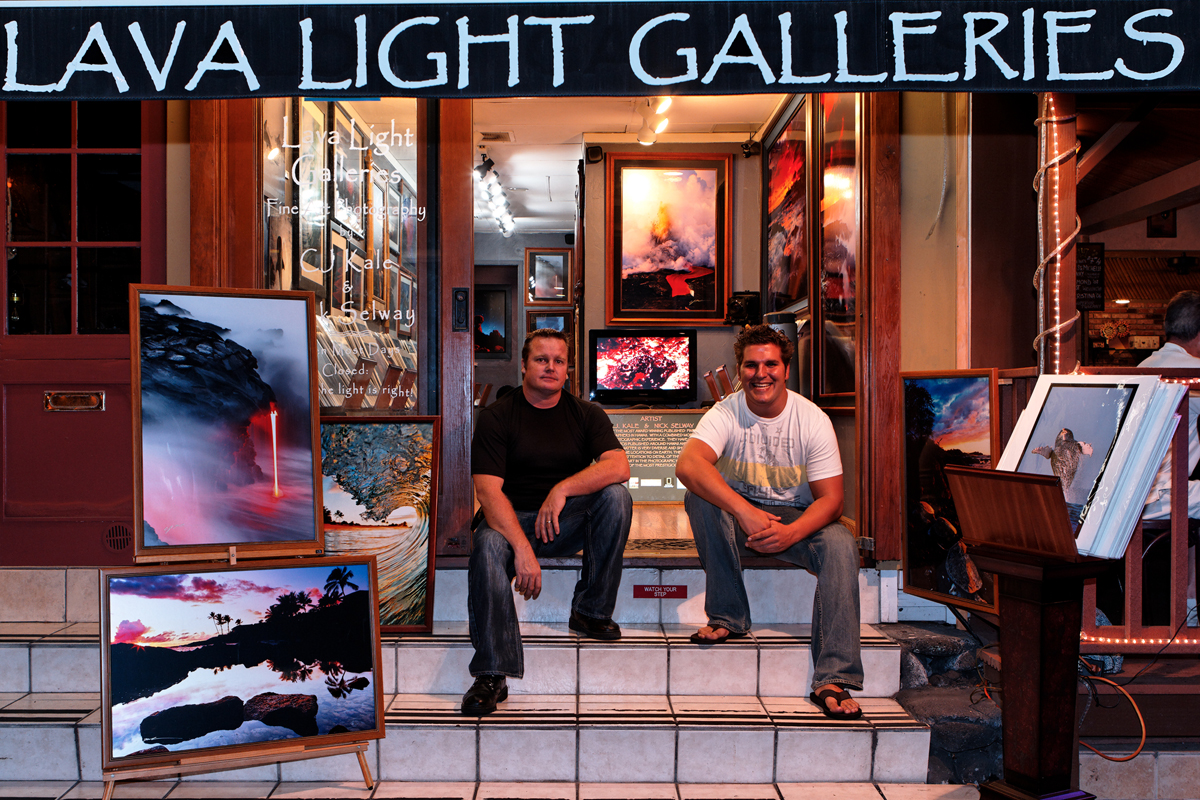 ---

Our 2nd Gallery
During the time we had the Lava Light Gallery, Cj and I would take many people on private photographic workshops to shoot all over the island, and specifically the Kilauea Volcano. In providing those private tours, we ended up meeting an amazing couple Don and Linda Hurzeler who had been visiting for many years. They were soon retiring and wanting to officially move to The Big Island. Once Don & Linda made the move, we became best friends and shared the love of photography together.
In 2010 with the help of Don and Linda we all became business partners and opened a 1500 square foot gallery located in the Queen Shops in Waikoloa Village, which is a a high-end shopping center next to the Hilton Hotel. As soon as we opened it was a success and we had a great following of many collector for years to come. Our lava and wave images become very poplar and gained worldwide attention from many magazines and new agencies.

---