Fire In The Sky
Monument Valley, Arizona
On this morning I was greeted with one of the most incredible sunrises I have ever seen in my life.A storm formed right over the East and West Mittens in Monument Valley lighting up the Verga rain shafts creating a sense and color of a fire in the sky.Monument Valley, home to some of the most recognizable icons of the desert Southwest, covers an area of 40 by 50 miles. This famous valley in Navajo Country, was introduced to Americans as a backdrop for many of Hollywood's western movies and countless television commercials.The Mittens, as well as other valley buttes and mesas, rise up hundreds of feet from the valley floor near border of Utah and Arizona. Sometimes these red rock features are referred to as timeless and enduring. A recorded geological event at the Monument Valley Navajo Tribal Park reminds us that these monuments are finite and cannot escape the forces of gravity and erosion. On May 18, 2006 a huge slab on the East Mitten butte came loose and made a thunderous roar as it tumbled down the talus slope. A dust cloud welled up and enveloped the magnificent butte, shocking those visitors that looked on. Photo © copyright by Nick Selway.
METAL PRINT/READY TO HANG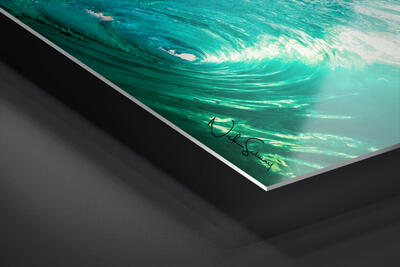 Metal Prints represent a new art medium for preserving photos by infusing dyes directly into specially coated aluminum sheets. Your images will take on a magical luminescence.Colors are vibrant and detail and resolution are beautiful.The Metal Prints come ready to hang with a Metal Inset Frame or Float Mount Hanger. Designed to look great while adding durability.

Select a print size:
LIMITED EDITION TRUE LIFE ACRYLIC/READY TO HANG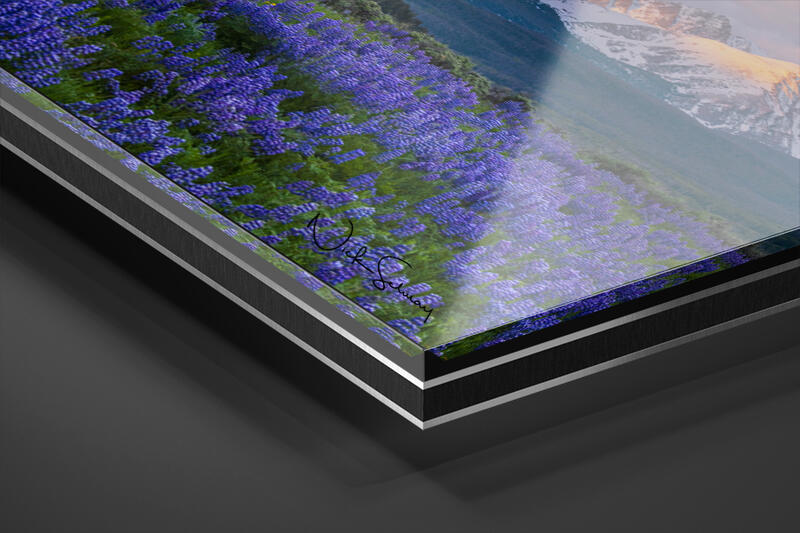 For the serious art collector! Limited Edition True Life Acrylics represent the highest quality photographic prints in the world today. These museum grade archival prints have a striking 3D appearance and Trulife Acrylic ELIMINATES 60% of Reflections compared to a standard acrylic or metal allowing the image to come to life with less reflections.It surpasses all other acrylics with the following properties.
Reduces Reflection

Scratch and abrasion resistant

Cleans Like Glass /No special acrylic cleaner needed

Blocks 99% of UV rays

Achieves the most vibrant colors, depth ,and clarity

Cleans like glass.No special acrylic cleaner needed
High Quality Roma Framing Options-
They also have an option of being framed a variety of different "Roma Italian Frames" that are 4" frames and 3" Linen Liner. This framing option adds a total of 14" in both directions (length & width) to any final print size overall. Click framing options or please contact the gallery direct 808-430-3309 or email us at nick@nickselway.com.

Select a print size:
GLOSSY FUJI ARCHIVAL PRINTS
These Glossy Fuji Archival Paper Prints are mounted on black 2mm styrene board which is a super smooth plastic mounting substrate that resists warping, making it an excellent choice for adding durability to prints of all sizes, and providing rigidity to prints. Once you recieve your print you can take it to your local frame shop to choose your choice of matte and frame.
Select a print size: